The encyclopedia of the Hungry Joker series by Yūki Tabata which started serialization in the Weekly Shōnen Jump magazine since November, 2012 and ended in May, 2013. The Wiki's main task is to progressively collect and archiving all Hungry Joker related materials into exclusive pages. Currently, we have edited over 79 articles as of May, 2013!

Make sure to visit our pages and deepen your knowledge on the scientific story of Hungry Joker!
WARNING! This wiki contains spoilers. Read at your own risk!
Random Quote
"That kid will surely make some great discoveries~ As long as he's got someone indispensable at his side to support him~" — Chitose's Mother, Case 4
Featured Article
Eureka
Eureka (エウレカ, Eureka) (Greek: εύρηκα, heúrēka; Literally meaning: "I have found") is a term given to a series of supernatural items that each of these items contains explicit knowledge of the human world. These particular items are considered to be beings close to that of a sentient as they are able to choose their own users, people who is known as the Chosen One (選ばれた人間, Eraba Reta Ningen).
The first Eureka that was introduced in the series is called the Newtonian Apple, which bestows its user the knowledge of Isaac Newton's Law of Universal Gravitation and gives them the power to control gravity. During the course of the series, it has been revealed that it could become the perfect Eureka known as the fruit of Genesis, called the Edenic Fruit of Knowledge.
(more...)
Random Chapter
Case 11: Steel Woman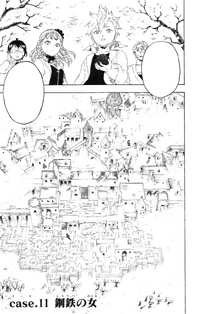 Again... Spoiler alert! Read at your own risk!
Please do not assume that this is a correct translation until further notice.
---
Heidi, Chitose, Vivian and Nils finally enter the Labyrinth of Mist, where Nils expresses sadness towards his secluded grandmother. Vivian gets irritated at Nils' depressive behavior, telling him that she's always been alone and yet doesn't complain.
The group is then suddenly ambushed by two giant minotaurs made of the Mist. Heidi is caught by one of them, and Vivian activates her Eureka to protect her group, revealing the Sumerian Ruby, that allows her to grow blades from her body. She tells them that she had the metal embedded in her body as a young child, which made her parents abandon them because of the ugliness of her body. With this, Vivi has sacrificed everything and joined the White Joker with her powers, demonstrated by her when cutting a minotaur in a half. She then unexpectedly hears from Heidi that he found her powers beautiful, and gets embarrassed when he says that he wants to see it once again.
Read the full summary here.
Finale Picture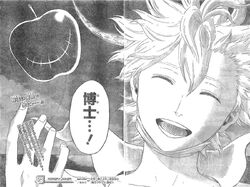 Joking With An Ever-Lasting Hunger
Wiki Affiliates
We are no longer accepting ANY
Affiliation Request.
Series Poll
Past Polls' Results
How would you rate the series as a whole?
Recent Wiki News
External Links